And so, here we are, the new Roaring 20s began…
Only a few days in and already watching the news makes me want to hide under the duvet, eating chocolate and re-watching Friends.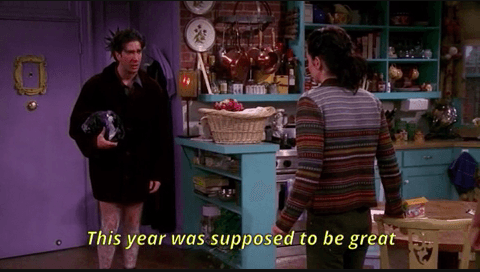 Still, despite the planet being literally on fire and the slight possibility of a world war three, we have to put ourselves together and make something out of this year, right?

If there is one thing I want to be in the next 12 months is to be completely unapologetic.
In my work and private life; in relationships with myself and others.
Not in an a-hole 'I don't care about anyone', but in a 'This is me, imperfect but doing my best, take it or leave it' way.
And so, I made a conscious decision that this year, among other things…
…I won't let other people's mood affect mine (I'm terrible at it right now, I suck up other people's vibes like a sponge)

…I will stop over-explaining my every idea and action

…I will remember that "No" is a complete sentence

… When making a decision, the thought 'what others will think about it?' is going to be the last one on the list

…I will take up more space in the world, unapologetically.
Unapologetic is my keyword for the next 12 months.
What word will define your 2020 and why?
I would really love to know so please share it the comments below.
Not only your answer might inspire others, but also the author of the comment that will move us (Cedric and me :)) the most will win full access to our passion business course Trailblazer worth $450!
Here's to the kick-ass year and decade, no matter what!